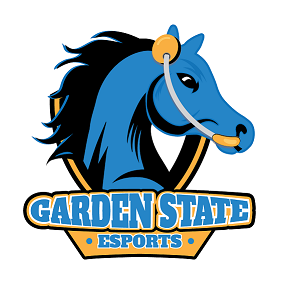 In our quest to lower the barrier of entry for schools to start an esports program, we here at Garden State Esports are willing to try anything. Our latest adventure is running an esports team using GeForce Now, Rocket League, and Chromebooks. But, this wasn't our idea. Regina Schaffer, Garden State Esports team member and coach of the Middletown Lions esports team, was approached by one of her students, Gary. Gary told Coach Schaffer that he was messing around with Rocket League on his Chromebook over the weekend. We didn't know that was possible! Gary gave his cloud-gaming experience with GeForce Now a rave review, so we asked Gary to walk us through the process of getting started with GeForce Now and Rocket League on a Chromebook, so we can help other schools see if this way of gaming would work for them. Here's Gary:
Nvidia's GeForce Now is a free-to-use streaming service that supports cloud-based gaming on PC, Mac, Android, Nvidia Shield, and Chromebooks. GeForce Now provides game streaming from their gaming servers, so players can play the latest games even if they don't have expensive computers.  Also, it uses cloud sharing to save data so you can play from anywhere with the same saved data.
To get started, you will need:

To access GeForce Now, go to https://www.nvidia.com/en-us/geforce-now/ then click Join Today. There you see two options: Free and Founders.
The free version has a one hour session length. Keep this in mind when playing ranked matches in Rocket League as after an hour of playtime, it will end your game (causing you to forfeit) and bring you back to the main GeForce Now page where you can start the game again, but the problem is sometimes their servers are full and they don't have space available right away to start playing again. Most of the time, you only need to wait for 1-5 minutes, but sometimes you may have to wait for 10 to 25 minutes. One time I had to wait 47 minutes. This usually happens during "Rush Hour" when everyone is using the service around midday on the weekend or during the evening during the week.

The other opti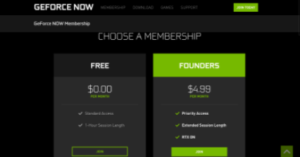 on is to buy the Founders version for $4.99 a month. Founders version grants you infinite session length and instant play rather than (sometimes) having to wait for the server to have space for you. It also adds RTX shaders to your game.
I chose the free version; I can't afford Founders as my allowance = $0.00.
After you choose, you are then brought to login to your Nvidia account, if you already have one, then great, if not, create an account. REMEMBER, BE CAREFUL OF USING YOUR SCHOOL ACCOUNT, AS YOU WILL HAVE TO VERIFY YOUR EMAIL AND SCHOOLS BLOCK OUTSIDE EMAILS. Once you have made an account, verify your email on your non-school device, you are set to go. When you log in on your Chromebook you will be brought to the GeForce Now library where you can add games that you own on Epic Games or Steam, by connecting your accounts, and then play them right on your Chromebook.  Also, you can get the free games on the spot if you try opening a game you don't have, it will bring you to the store page of the game to buy it for its normal price or if the game is free, then free.

Here are some free games to get you started:
Unturned

Rocket League

War Thunder

League of Legends

Free games available from Epic weekly
Most games you own on Epic Games and Steam can be played on GeForce now, sadly some games cannot be played. You also can connect a controller to your Chromebook for some games like Rocket League. While playing the free version, you may see a little timer at the top of your screen, counting down to when it will log you out, so make sure you save your game or finish any matches before it does.
GeForce Now's Terms Of Service (TOS) can be found here. Be sure you follow the TOS of any game you play.
"'
We took Gary's advice and have been playing around with GeForce Now. We have tested GeForce Now and Rocket League using midrange Chromebooks, the kind you would most commonly find in schools, and have been impressed with the results. We have a district that thought they would not be able to participate in Garden State Esports this season because they didn't have the devices, but thanks to Gary bringing this to our attention, we are now working with that district to run their esports team entirely through GeForce Now. We are documenting this test case and will have an update soon, but for right now, early testing seems to show that using GeForce Now (Founders version) and Chromebooks is a viable way to lower the barrier of entry and bring esports to your school even if you don't have gaming computers or consoles.
Stay tuned!